Please book an appointment to visit
View and play all of our pianos, and have the entire showroom to yourself.  Appointments are proving to be the best way to buy a piano.

Just you – The Pianos – Plenty of space – A quiet showroom –  Perfect.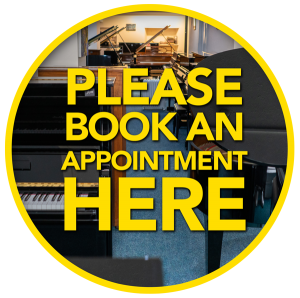 Since restrictions were put in place due to the COVID-19 pandemic, we have adopted an 'Exclusive Showroom Access' appointment system for visiting our showroom. It has proven to be very popular with our customers.  We allocate a 2 hour time slot where you can explore our vast selection of pianos.  
Our appointment system gives you the freedom to play all of the pianos with no other customers in the shop.  The space and silence will help you to listen to the acoustic nuances of each instrument. A far better way to chose your new piano.
Please follow the link below which will take you to our online calendar and booking system where it's very easy to see the availability and to book your session. 
We look forward to seeing you.