Yamaha AvantGrand N3X- NOW SOLD
£10995
STOCK:

C912
YEAR:
COLOUR:
FINISH:
HEIGHT:
WIDTH:
DEPTH:
Touch, pedal feel, reverberation, and resonance—by all metrics, the N3X meets or surpasses the demands of even the most discriminating pianist.
Specialized Grand Piano Action with Ivorite®
Spatial Acoustic Sampling
Sound sampled on four channels from the Yamaha CFX and Bösendorfer Imperial
Yamaha CFX Binaural sampling
Virtual Resonance Modeling (VRM)
Spatial Acoustic Speaker System
Soundboard Resonator
Tactile Response System
Specialized Grand Piano Pedal
USB Audio Recorder
XLR jack outputs
Experience the response and feel of an authentic acoustic action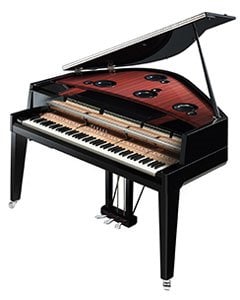 To express yourself musically, you need to form a physical bond with your instrument. In the case of the AvantGrand series, it starts with the keys. Real wooden keys with a comfortable touch, thanks to Ivorite® keytops that look and feel just like natural ivory. Then comes the all-important key action, which the AvantGrand series has inherited from Yamaha's esteemed concert grand pianos. Beneath your fingers you sense the same precise weight and responsiveness, the same scope for expression. To capture every nuance of your performance, Yamaha employs a non-contact optical sensor system that doesn't affect the feel or performance of the action in any way. Under each key is a continuous optical sensor that captures the speed and depth at which that key is depressed. An additional optical sensor affixed to each hammer shank measures the timing and strength of the hammer hitting the virtual "strings". This information is instantly translated into a beautifully authentic sound reproduction. The more you play, the more you find yourself becoming one with the piano.
Two world-class grand pianos in one

When it comes to judging piano tone, much depends on personal taste. To help you achieve the tonal palette you desire, Yamaha offers the choice of two world-class grand pianos in one—each with its own unique character to convey the emotion you want to express through a piece of music. At the touch of a button on the new AvantGrand N3X, you can opt for authentic sounds sampled either from a Yamaha CFX concert grand or from a Bösendorfer Imperial. As Yamaha's flagship grand piano, the majestic CFX boasts a wide palette of tonal colors, from sparkling high notes to powerful bass tones. The legendary Bösendorfer, meanwhile, is renowned for its sonorous and rich Viennese sound. Either way, the lifelike sounds of the AvantGrand N3X allow you to explore the outer reaches of your expressive imagination.
Evolving the sonic spectrum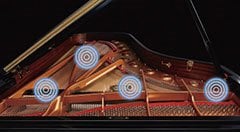 The AvantGrand series takes a unique approach to reproducing the sound of an acoustic grand piano. When capturing the original source sounds from a specially selected full concert grand, Yamaha technicians took samples from four different positions across the soundboard: left, right, center, and rear. Compared to conventional left-and-right channel (stereo) recording, this yielded wonderfully rich and authentic results. To make the most of this four-channel source sound, AvantGrand pianos employ Yamaha's Spatial Acoustic Speaker System—a four-point speaker configuration that allows AvantGrand pianos to deliver faithful three-dimensional recreations of the original instruments. For the N3X, speaker placement mirrors the four recording positions on the source piano.
Digital technology that resonates with you
In addition to the four-channel Spatial Acoustic Speaker System, the AvantGrand features a flat-panel Soundboard Resonator located beneath the music rest and spanning the width of the instrument. This component allows for a more subtle reproduction of the buildup of sound that you feel when playing an acoustic grand piano. It works by using an oscillating transducer to transmit vibrations to the flat-panel soundboard, giving a realistic sound response that is especially evident in the upper key range.
Virtual Resonance Modeling (VRM)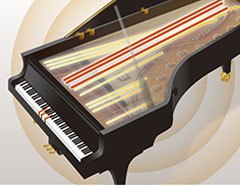 In a grand piano, strings and sounds resonate throughout the entire body of the instrument producing a rich reverberation that envelops the listener in sound. Not only are the strings you are playing vibrating, but other strings ring as a reaction to ones you play. This is one reason the piano sound is so complex and rich.
This phenomena is reproduced perfectly in the AvantGrand N3X through Virtual Resonance Modeling (VRM) which calculates the various states of the strings for each of the 88 notes on the keyboard from one instant to the next. As a result, the N3X reflects the limitless number of factors inherent in playing an acoustic piano such as which keys are pressed, the strength with which the keys are played and pedal timing.
A fully immersive headphone experience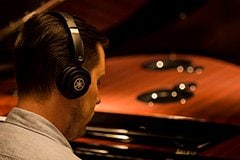 AvantGrand pianos are designed to deliver flawless room-filling sound. But there are times when you may want to keep your playing to yourself—when you're practicing at night, for example, or when people nearby are engaged in other activities.
In such cases, headphones offer a private sanctuary where you have the freedom to play however and whenever you choose.
Thanks to Yamaha's advanced binaural sampling* technology, the sound you hear through your headphones is remarkably lifelike. This technology uses piano samples recorded by specialized microphones that mimic the interaural characteristics of the human ear. This unique approach allows the AvantGrand to recreate the perceived acoustic sound only experienced when seated in front of a concert grand piano. The resulting sound is so natural, so enveloping, that you'll soon forget you're even wearing headphones at all. (CFX Grand Voice only)
An emotional response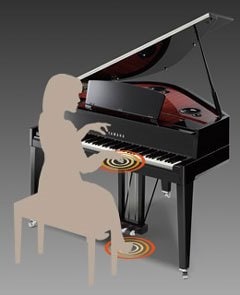 When you play an acoustic piano, the entire instrument resonates. You feel it subconsciously, through your feet on the pedals and through your fingers on the keyboard. It's this subtle physical sensation that Yamaha's Tactile Response System (TRS) works to recreate. This digital technology conveys the natural vibrations that emanate from a grand piano, unifying the emotional energy between you and the instrument. Even if you're wearing headphones, you can use TRS to enhance the realism of the playing experience.
Replicating subtle pedaling style of grand pianos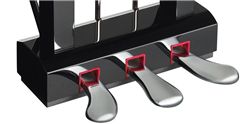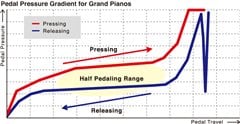 When you press down on a grand piano pedal, you notice subtly different stages. Light to the touch at first, slightly firmer partway through the travel, and then lighter again as you push through. Skilled players take advantage of these pedal movements by using extremely delicate pedaling to achieve finely nuanced expression in their playing. In developing the AvantGrand, we set out to reproduce as faithfully as possible the sensations of a grand piano's pedals. The resulting pedals give you the scope to play music how it was meant to be played, while also offering the responsiveness to play more impressionistic pieces that require a lot of half-pedaling.
USB audio recorder
The USB to Device port allows you to connect your USB flash drive and use it as a built-in piano recording studio. You can store your performances directly on the USB flash drive as audio songs. These songs are stored in WAV format, so you can listen back using the keyboard's on-board speaker system, or conveniently play them on a computer, transfer them to a portable media device or upload them to share with friends online.
XLR pro-quality jack outputs
XLR balanced audio outputs give you a professional and stable output to connect to amplified speakers or to mixing consoles.
Yamaha Brand History
1900 – 1949
The first piano to be made in Japan was an upright built in 1900 by Torakusu Yamaha, founder of Nippon Gakki Co., Ltd. — later renamed Yamaha Corporation. Just two years later, the Nippon Gakki factory resonated with the tones of its first grand piano. During this early period, the company focused on manufacturing instruments for the Japanese market, where interest in Western classical music was still relatively new. Even so, Torakusu did send one of his pianos to the 1904 St. Louis World's Fair, where it received an Honorary Grand Prize.
Yamaha grand piano c. 1902
By the 1920s, Yamaha craftsmen were regularly traveling overseas to gain knowledge of the latest European piano production techniques. In 1926, the company invited Ale Schlegel, an expert piano technician from Germany, to visit with the craftsmen at the Nippon Gakki facilities in Hamamatsu, Japan and discuss piano making in exhaustive detail. Schlegel's advice yielded a much improved product. Before long, well-known European pianists were taking favorable note of Yamaha instruments, among them Arthur Rubinstein and Leo Sirota.
1950 – 1959
In 1950, Yamaha released the FC concert grand piano to great acclaim. Spurred on by that model's success, the company built one new facility after another in its continuing quest to make an even better piano. In 1956, the company completed work on Japan's first computer-controlled artificial drying room, where the moisture content of wood — a vital factor for any piano — is adjusted to the optimum level after the natural drying process is complete. In 1958, Yamaha set up a grand piano assembly line at its Hamamatsu headquarters.
Computer-controlled wood drying in the Yamaha factory.
1960 – 1969
At the start of the 1960s, Yamaha made a major move, creating a new company in the U.S.A. to import and distribute its pianos: Yamaha International Corporation. By 1965, Yamaha was producing more pianos than any other manufacturer.
In that same year, Cesare Tallone, one of Europe's most respected piano technicians, came to Japan and visited the Yamaha factory. Deeply impressed by its facilities and employees, he elected to work with the company on the development of a new world-class concert grand. Over the next two years, Yamaha craftsmen-built prototypes that were evaluated by several highly regarded pianists; their feedback was then incorporated into further new designs. Finally, in November 1967, the CF concert grand piano was unveiled during a banquet at Tokyo's Hotel Okura. Playing the piano on that occasion was Wilhelm Kempff, who went on to call it "one of the top pianos in the world."
The CF, along with the simultaneously introduced C3 grand piano, took the world by storm — with a little help from an all-time great. Sviatoslav Richter's first encounter with a CF occurred at a January 1969 concert in Padua, Italy. The Russian maestro chose to play one again later that year at the Menton Music Festival in France, after testing several pianos from different manufacturers during rehearsal. Richter played (and praised) Yamaha pianos from that point forward, marking the beginning of a relationship with the company that would last for the rest of his life.
1970 – 1979
During Sviatoslav Richter's first Japanese tour in 1970, he performed at the Osaka World's Fair on a CF bearing the serial number 1000000 — the one-millionth piano manufactured by Yamaha. One by one, European music festivals adopted the CF as their official piano, including the Antibes, Saint Tropez and Menton Festivals in France. Samson Francois, Tamás Vásáry, Byron Janis, Lívia Rév, Alexis Weissenberg and Georges Cziffra were among the many pianists who favored the CF, as its fame around the world continued to spread.
1980 – 1989
Another legendary pianist was drawn to Yamaha in 1980. Glenn Gould purchased two CFs that year and used them on the final three albums he made before his tragically early death in 1982 at the age of 50, including his second reading of J.S. Bach's Goldberg Variations, now regarded as an all-time classic.
With new concert halls springing up all over Japan at that time, Yamaha craftsmen were inspired to develop a concert grand piano for a new generation. Building on the CF's successes, they again went to work developing a series of prototypes, each of which was evaluated by top pianists. Krystian Zimerman was so pleased with his that he took it with him on a European tour. After further improvements, Yamaha craftsmen unveiled the CFIII in 1983. It was an instant hit, designated as the official piano of East Germany's International Johann Sebastian Bach Competition, Poland's International Chopin Piano Competition and the Soviet Union's International Tchaikovsky Competition.
Yamaha also created a new kind of piano in the 1980s with the Disklavier, which made its American debut in 1987 (an earlier model called Piano Player was introduced in Japan in 1982). Originally designed as an acoustic piano outfitted with electronic controls for recording and playback, it has been updated and refined as technology has evolved in the decades since.
1990 – 1999
In 1991, Yamaha reached the impressive manufacturing milestone of five million pianos. The company also introduced the successor to its CF and CFIII concert grand pianos: the CFIIIS, which underwent two further upgrades in 1996 and 2000. At the Moscow Conservatory in July 1998, a young Russian pianist named Denis Matsuev took the International Tchaikovsky Piano Competition's top prize performing on a CFIIIS.
2000 – 2009
The Japanese music world celebrated in 2002 when Ayako Uehara won the 12th International Tchaikovsky Competition. She was both the first Japanese winner and the first female winner in the contest's history — and she did it on a Yamaha CFIIIS. A decade that marked the 100th anniversary of Yamaha's piano production also saw the CFIIIS become the official piano of more than 20 major international competitions.